Bonvoisin 10L Liquid Nitrogen Tank Cryogenic Dewar Container Aluminum 6 Canister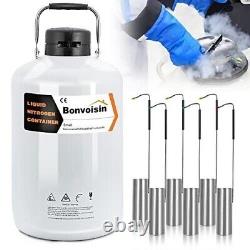 Introducing the Bonvoisin 10L Liquid Nitrogen Container with 6 Cryogenic Canisters and a Carry Bag - your ultimate solution for safe and convenient storage and transportation of liquid nitrogen! Perfect for laboratories, research facilities, and enthusiasts alike.
Don't miss out on this amazing offer! 10-Liter Capacity: This high-quality liquid nitrogen container boasts a generous 10L capacity, allowing you to store more liquid nitrogen for all your research and preservation needs. 6 Cryogenic Canisters: The Bonvoisin 10L container comes with 6 durable cryogenic canisters, providing ample storage options for your samples, vials, or other materials that require low-temperature preservation.
Advanced Insulation: Our container features a multi-layer insulation system and vacuum design to ensure optimal performance and minimal liquid nitrogen evaporation, maximizing the lifespan of your stored materials. Durable Construction: Made from robust aerospace-grade aluminum alloy, the Bonvoisin 10L container is designed to withstand the rigors of daily use, ensuring longevity and reliability. Carry Bag Included: The included carry bag makes it easy to transport your liquid nitrogen container safely and securely, whether you're moving between labs or traveling to field sites. Safety Features: The container is equipped with a pressure-relief valve, providing additional safety during use and transportation. The secure lid prevents accidental spillage and potential hazards.
Wide Applications: Ideal for use in the fields of animal husbandry, scientific research, healthcare, beauty, and cryotherapy treatments. Don't miss out on this LIMITED TIME OFFER!